The Timelink Group
Proteus System
A Proteus System can come in virtually any configuration to suite your requirements. Starting with an entry level single clocking point for up to 50 staff right through to several thousand staff covering multiple sites doing time and attendance, job costing, access control etc. Proteus is completely flexible and expandable, designed to grow with your company's needs. Every option is modular and can build upon the last.

Proteus Time and attendance

Record employees clockings, hour, absenteeism, Holidays, Personnel records etc.

Flexi Time Systems

A live flexi time system interacting with your staff as they clock.

Job Costing (Shop Floor Data Capture) Systems

Record information live from your shop floor via our terminals. Jobs and operation in progress/ completed. Record directly from machines or employees. Understand where your company is right now.

Access Control & Door Entry Systems

Record and control the flow of people around your premises. Secure sensitive areas and control access by levels and or times.

CCTV and Public Address

Industrial Public Address and Security CCTV systems

Bespoke Systems

Built to your requirements

Our Hardware

Pictures and description of our equipment

Proteus Time and attendance

The primary and founding role of Proteus system is the one that we have dedicated most of our experience to. Whether it's an entry level fifty employee single terminal system or a multi terminal multi site system you'll receive the same high level of software with the same capabilities.

Employee capacity incremented in 50's to an unlimited capacity
99 shift patterns performing fixed, flexitime, rotating and continental shifts at the same time as standard patterns.
Automatic calculation of hours and overtime into different bands.
Rounding and grace times, lateness and break deductions.
Absenteeism recorded and managed with over one hundred changeable absence codes.
Full history of all clockings and all absences stored for years.
Employee and company holiday calendars.
Over fifty standard reports with more available.
Bespoke reports to your requirements
Editing of historical transactions with a full audit trail
Sirens and bells for breaks, etc.
Links to most Payroll applications
Password protection with various security and access levels
Attendance Display Panel for monitoring staff presence
Automatic Fire Reports (can be linked to fire alarm)

Our software is fully networked and allows multiple, simultaneous and remote access with various security levels. All of our reports can be edited to your requirements or new ones written to your specification. Our data can be exported to other applications including payroll, databases or spreadsheets. And finally, if we haven't got it now, ask for it and we'll be happy to provide it as a future modification.

FlexiTime

Please read this page as a supplement to the Time and Attendance page. Flexitime does comes as standard with Proteus however due to its complex nature we felt that it deserved a page dedicated to it alone.
Not to be mistaken for 'flexible working patterns', true flexitime is a specific set of working rules that enables employees to have flexible working hours whilst ensuring that they complete their contractual hours within their pay periods. Further flexibility is often built in by allowing certain positive or negative balances to be carried from one pay period to the next.
Flexitime is one of those rare systems that became far more complex when translated from a card based system to a computerised system. It is a continuous calculation of hours worked (credits) set against target hours (debits) to create a running balance for each individual employee. In the past, flexitime systems have encountered several problems. The acid test for any system is how it deals with, and corrects, errors. Twenty years experience has helped us create a system that enables error correction and recalculation to bring a single employee's balances up to date correctly.
Some of our flexitime features:
Daily target of contractual hours. (This can vary from day to day and employee to employee).
Balances are displayed on the clocking terminals as each employee clocks
Balance enquiry key on clocking terminals
Weekly, bi-weekly, four -weekly and calendar monthly pay periods. (Different employees can have different payperiods )
Balance Carry Overs from Pay Period to Pay Period which can be capped (Both Debits and Credits)
Core Times with Core Time Infringement Reports.
Flexi Holiday booking. (Both pre-planned and retrospective with automatic balance adjustments)
Unlimited historical data storage.
Error correction and balance recalculation.
Full editorial rights to authorised operators.
Shop Floor Data Capture - Job Costing

Proteus is one of the few clocking in systems on the market which offers a Shop Floor Data Capture (SFDC) solution as a compliment to its Time and Attendance software. Often referred to as 'job costing' this is a slight misnomer as Proteus collects information from the shop floor, saves it and presents it in various outputs and mediums for analysis. Rarely does this involve the actual costing of jobs but it can if required. The software has the capacity to extract up to ten pieces of information from each employee; this can be done when clocking on or off the job or a combination of both. Most common requirements are: Job Number, Operation, Cost Centre, Quantity Produced/Scrapped, etc.
These pieces of information can be entered into Proteus via the clocking point keypad or a bar code scanner, or the terminal can take a reading from a machine or another device, e.g. thermometer, mains meter, etc.
Once the data has been captured, Proteus stores the employees swipe along with the data, forever.
There are a number of standard reports or bespoke reports that can be written to present the data how you need it.
A popular requirement over the past few years is for the data to be exported into more complex management and costing software to provide a more detailed analysis of your companies workings.
How Proteus Collects Data
The most popular configuration is for each employee to have a T&A badge and a separate Data Capture (DC) badge. Having clocked "in" in the morning the employee then uses his DC card to log onto a job. Depending on how the system is configured he will be prompted for certain information e.g. Job Number and Operation. He may type the job number in at the keypad or scan it in from a job sheet barcode, then enter the operation he is working on likewise. Having logged on the job the employee proceeds to do his work. When he is finished he simply swipes his DC card through the terminal to log off the job. He continues doing this throughout the day to build up a time sheet profile of his working day. At the end of the day he clocks out with his T&A card and goes home. You now have a complete breakdown of his working day, showing how many hours he has been at work for payroll (T&A) purposes and how many hours he has worked on jobs (billable hours).
It is possible to generate reports to look at individuals or groups of employees, showing what jobs they worked on over any given time period. Conversely, you can look at individual jobs and see how many hours have been worked on it and by whom. You can instantly get breakdowns of the number of hours worked on different operations within a given job or any other information that has been captured. Because Proteus is a realtime system you will have completely up to date information on your company's workings at your fingertips.
Access Control or Door Entry
Proteus System offers the complete Access Control Solution, it can manage unlimited doors, with 99 time and area zones, fail safe/secure options, duress alarms as well as a full set of employee personnel files and management reports. We can also use magnetic swipe or proximity key fob or infra red readers. We can link to car park gates, sliding doors or turn-styles. We can link to security systems, cameras and or fire alarm system. In fact, there are so many permutations of the system that we cannot specify them all here!
Access Control Features
Restricted Access by Area zones
Restricted Access by Area zones
Restricted Access by security level
Any combination of the above three
Record all swipes and store data indefinitely
Record illegal or invalid access attempts
Fail Safe or Fail Secure terminal options
Tamper alarm
Duress Alarm
Card, PIN or Biometric operation or a combination of these
Full range of historic and live reports
Last Know Location report
Attendance Panel showing last event
CCTV & Public Address
As with any business we have been inevitably drawn into allied industries. The two most common areas are CCTV and Public Address. As such we have developed our knowledge and services in these areas")
CCTV
We offer a full range of mono or colour camera systems for day and or night use. With a wide range of recording devices for all of your security needs.
Public Address
We are often asked for Tannoy or paging systems as complete systems or as an add-on to a clocking system to signal tea breaks etc. We offer a range of music and or voice options along with integration into the Proteus. We can also integrate existing PA systems into Proteus system.
Hardware details:
All our terminals are 12v powered and come with a magnetic swipe reader as standard and are made from cast metal for strength. They both have backlit LCD screens and keypads which can be de-activated. The larger terminal is for T&A, Job Costing etc. Both terminals are Ethernet and Web enabled.
Reader options
Our terminals come with a choice of
Proximity Readers (Fob or Card)
Biometric (fingerprint) Readers
Magnetic Swipe (default)
Bar Code (Swipe or Scanner)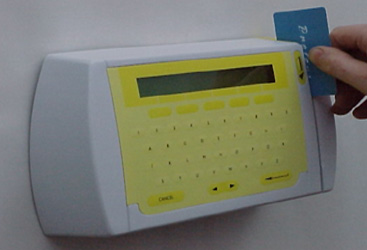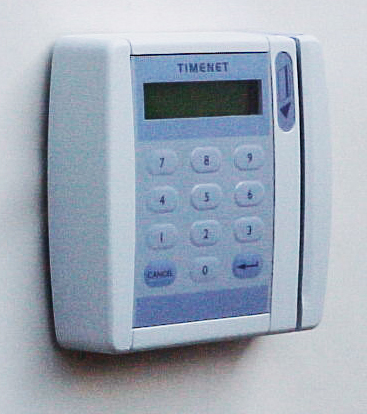 Bespoke systems
Our maxim has always been "if we haven't got it, ask for it!"
Proteus is a continuously evolving product that has many applications, some of which we have introduced because a customer asked for them and we felt they were useful enough to put into the system as a standard feature e.g. automatically printing fire reports from a fire alarm activation.
For this reason we have been asked to quote for some unusual and extraordinary systems:
A system to monitor temperature at different points in a factory where temperature is critical for manufacture.
A portable clocking system to follow builders from site to site.
A system to count eggs produced by huts of chickens! Yes, really!
A system to allow employees to clock on via mobile phone. This is now a standard feature.
Some of these systems never got beyond quotes, some of them were installed and became standard features. None of them would have existed without somebody asking for them. If you have a requirement that is not detailed as standard then please ask, you never know.